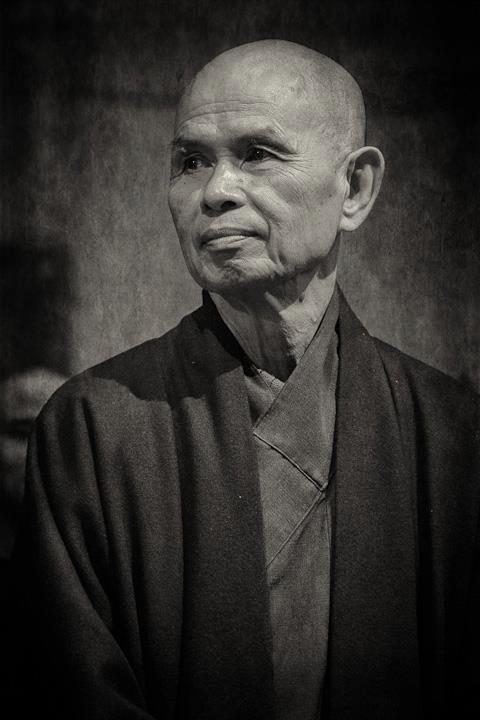 Zen Master Thich Nhat Hanh is a global spiritual leader, poet and peace activist, revered throughout the world for his powerful teachings and bestselling writings on mindfulness and peace.
His key teaching is that, through mindfulness, we can learn to live happily in the present moment—the only way to truly develop peace, both in one's self and in the world.
Here are some quotes from this wise man:
When you understand the roots of anger in yourself and in the other, your mind will enjoy true peace, joy and lightness
. When you feel anger arising, remember to return to your breathing and follow it. The other person may see that you are practicing, and she may even apologize.
Your first love has no beginning or end. Your first love is not your first love, and it is not your last. It is just love. It is one with everything.
The quality of our life depends on the quality of the seeds that lie deep in our consciousness.
The present moment contains past and future. The secret of transformation, is in the way we handle this very moment.
One included all, and all were contained in one.
The leaf and his body were one. Neither possessed a separate permanent self. Neither could exist independently from the rest of the universe.
Freedom from suffering is a great happiness.
If in our daily life we can smile, if we can be peaceful and happy, not only we, but everyone will profit from it.
If we really know how to live, what better way to start the day than with a smile? Our smile affirms our awareness and determination to live in peace and joy. The source of a true smile is an awakened mind.
The miracle is not to walk on water. The miracle is to walk on the green earth in the present moment, to appreciate the peace and beauty that are available now.
In order to rally people, governments need enemies. They want us to be afraid, to hate, so we will rally behind them. And if they do not have a real enemy, they will invent one in order to mobilize us.
To think in terms of either pessimism or optimism oversimplifies the truth. The problem is to see reality as it is.
A pessimistic attitude can never create the calm and serene smile which blossoms on the lips of [enlightened ones] and all those who obtain the way.
Reality is reality. It transcends every concept.
There is no concept which can adequately describe it, not even the concept of interdependence.
Drink your tea slowly and reverently, as if it is the axis on which the whole earth revolves
—slowly, evenly, without rushing toward the future. Live the actual moment. Only this actual moment is life.
It's wonderful to be alive and to walk on earth.
You are a miracle, and everything you touch could be a miracle.
If you look deeply into the palm of your hand, you will see your parents and all generations of your ancestors. All of them are alive in this moment. Each is present in your body. You are the continuation of each of these people.
We have more possibilities available in each moment than we realize.
Children understand very well that in each woman, in each man, in each child, there is capacity of waking up, of understanding, and of loving.
Many children have told me that they cannot show me anyone who does not have this capacity. Some people allow it to develop, and some do not, but everyone has it.
Smiling is very important. If we are not able to smile, then the world will not have peace. It is not by going out for a demonstration against nuclear missiles that we can bring about peace. It is with our capacity of smiling, breathing, and being peace that we can make peace.
Your true home is in the here and the now. It is not limited by time, space, nationality, or race.
Your true home is not an abstract idea. It is something you can touch and live in every moment. With mindfulness and concentration… you can find your true home in the full relaxation of your mind and body in the present moment. No one can take it away from you. Other people can occupy your country, they can even put you in prison, but they cannot take away your true home and your freedom.
Love is the capacity to take care, to protect, to nourish. If you are not capable of generating that kind of energy toward yourself — if you are not capable of taking care of yourself, of nourishing yourself, of protecting yourself — it is very difficult to take care of another person.
When it is raining, we think that there is no sunshine. But if we fly high in an airplane and go through the clouds, we rediscover the sunshine again. We see that the sunshine is always there. In a time of anger or despair, our love is still there also. Our capacity to communicate, to forgive, to be compassionate is still there. You have to believe this. We are more than our anger, we are more than our suffering. We must recognize that we do have within
us the capacity to love, to understand, to be compassionate. If you know this, then when it rains you won't be desperate. You know that the rain is there, but the sunshine is still there somewhere. Soon the rain will stop, and the sun will shine again. Have hope. If you can remind yourself that the positive elements are still present within you and the other person, you will know that it is possible to break through, so that the best things in both of you can come up and manifest again.